Peel-Away Adjustable Heel Lift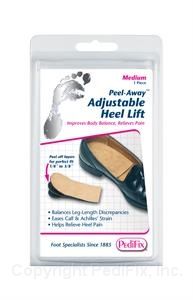 Peel-Away Adjustable Heel Lift
Peel-Away™ Adjustable Heel Lift
Balances Leg-Length Discrepancies
Eases Calf & Achilles' Strain
Helps Relieve Heel Pain
Peel Off Layers for Perfect Fit - 1/8" to 3/8"
Heel Lift Ends Pain!
This soft insert helps relieve a variety of foot, leg, hip and back pains. For people with different leg lengths, they help balance hips and back to correct posture and reduce discomfort. Takes pressure off sore Achilles' tendon and calf muscles. Also help heel, heel spur and plantar fascia pain. Effective for months.
| | | | |
| --- | --- | --- | --- |
| Size | Item# | Women's | Men's |
| Small | P6582-S | 4-7 | |
| Medium | P6582-M | 8-10 | 6-8 |
| Large | P6582-L | 11+ | 9+ |
Reviews
Featured Products