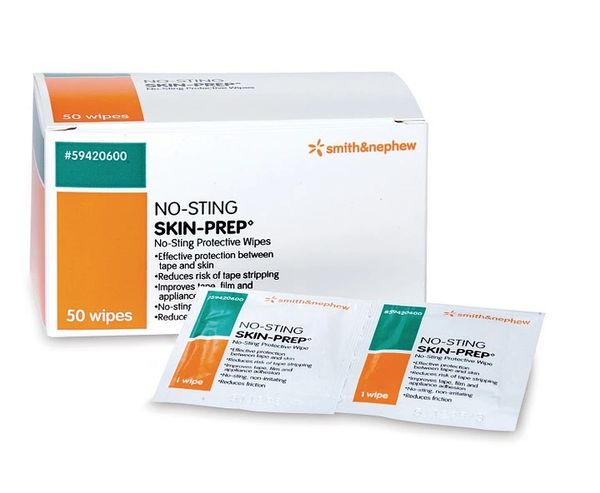 NO-STING SKIN-PREP
50 Wipes in One Box Protective Dressing
NO-STING SKIN-PREP* Protective Dressing forms a protective interface to prepare damaged or intact skin for attachment sites, tapes, films and adhesive dressings. It also protects skin from incontinence, wound drainage, ostomy effluent, adhesive trauma, tape stripping and friction. Fast drying, sterile, formula is flexible, transparent, waterproof and breathable. Non-irritating, hypoallergenic, CHG-compatible and pediatrician tested.
Benefits
• Quick drying in under 30 seconds
• Waterproof and breathable for up to 96 hours
• Won't crack or peel
• Only one coat required
• Available in three application formats: swab, wipes and spray
Indications
NO-STING SKIN-PREP* Protective Dressing forms a protective, waterproof barrier which acts as an interface between the skin and bodily wastes, fluids, adhesive dressings, drainage tubes, external catheters and around ostomy sites.
Can also be used to help protect areas of the body that are a risk of irritation due to friction damage caused by external surfaces.
May be used on intact or damaged skin and may be used on adults, children and full term infants from one month with normal skin.
Warnings and Precautions
For external use only. Keep out of the reach of children. Avoid contact with eyes. In the case of accidental contact, flush eyes well with water. Do not apply directly to open wounds or in deep puncture wounds. Should redness or other signs of irritation appear, discontinue use. Do not apply to infected areas of the skin. Do not use on patients with a known allergy to any of the ingredients.
Reviews
Featured Products