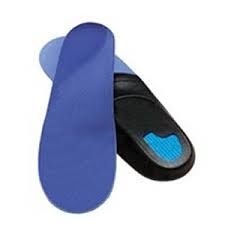 BIOSOLE-GEL SOFT
BIOSOLE-GEL SOFT
Superior customized support - relieve foot pain and enhance comfort with innovative moldable BioSole-GEL orthotics

BioSole-GEL professional foot orthotics are uniquely engineered with a bladder, filled with viscoelastic gel and polyurethane foam, which dynamically shapes to the contours of the foot, providing customized support and alleviating pain off your foot, all the way up your knees and low-back. Gel padding along with a trampoline design works wonders to relieve heel-pain, and cushion your foot every step you make. Polyester mesh lining provides a soft, friction free surface that wicks away perspiration. The result: superior foot orthotic that maximizes comfort from heel to toe.
Features:
Full length insole.
3/16" Thick at the forefoot (toes).
Women's Sizes: 6 to 10 (in full sizes).
Men's Sizes: 7 to 13 (in full sizes).
Fit: Fits shoes with extra room or with removable footbeds.
Each full size insole covers a half size larger. For example: If you wear a size 8.5, please purchase a size 8 insert.
Reviews
Featured Products